Aa
Autumn Village Assisted Living Presents the Glen Campbell Movie "I'll Be Me"
Posted 3/4/2016
Autumn Village Assisted Living Presents the Glen Campbell Movie "I'll Be Me"
Friday, March 11


Free Light Supper: 6:30 p.m.
Movie Premiere: 7:30 p.m.

Where: Autumn Village Assisted Living
915 Elm Avenue East, Menomonie

Please RSVP to 715-235-3697


The stunning motion picture story of country music star Glen Campbell's journey as an Alzheimer's patient will be shown free of charge for the public. "It's a privilege to be able to provide this movie for the folks in Menomonie. It's an amazing story and we all hope it helps shed light on the challenges and triumphs experienced by our friends and neighbors and their families
who are dealing with Alzheimer's disease every day," said Administrator Marty Metten.
The film documents the amazing journey as Campbell and his family attempt to navigate the wildly unpredictable nature of Glen's progressing disease using love, laughter and music as their medicine of choice. Special appearances include Bruce Springsteen, The Edge, Paul McCartney, Blake Shelton, Sheryl Crow, Keith Urban, Brad Paisley, Taylor Swift, Steve Martin, Chad Smith and Bill Clinton among many others.
Autumn Village will provide both a light supper and tours between supper and the movie premiere. "We hope this movie helps people come together to better recognize the disease and its impact on the community." Metten added.

American Lutheran Communities has been helping our friends and neighbors in communities all overthe western Wisconsin since 1949. The non-profit organization specializes in rehabilitation, assisted living and skilled nursing at American Lutheran Communities - Menomonie and Autumn Village Assisted Living in Menomonie and American Lutheran Communities - Mondovi and Hillview Senior Living located in Mondovi.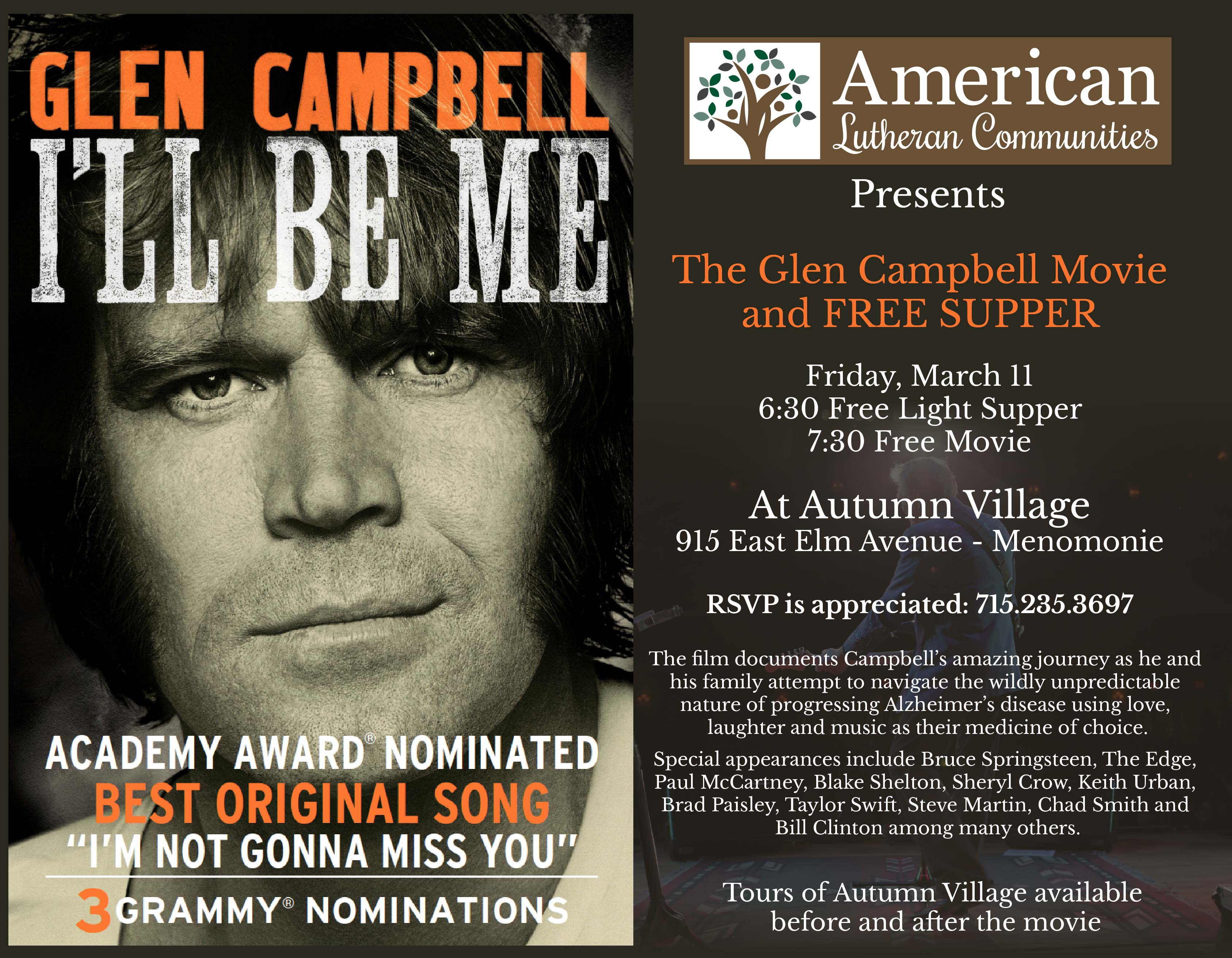 ---