Aa
Mother and Daughter Work Side by Side in Mondovi
Posted 5/11/2017
In July of 1978, Carol Christopherson was a first-time mom of a four month old and pregnant with her second child when she went looking for a part-time job. Little did she know, 39 years later, she would still be at American Lutheran Communities in Mondovi and sharing her workload with the child that was still growing in her belly at the time of her hire.
"I started as a part-time night cook and then began filling in for the dishwasher in the morning," says Carol.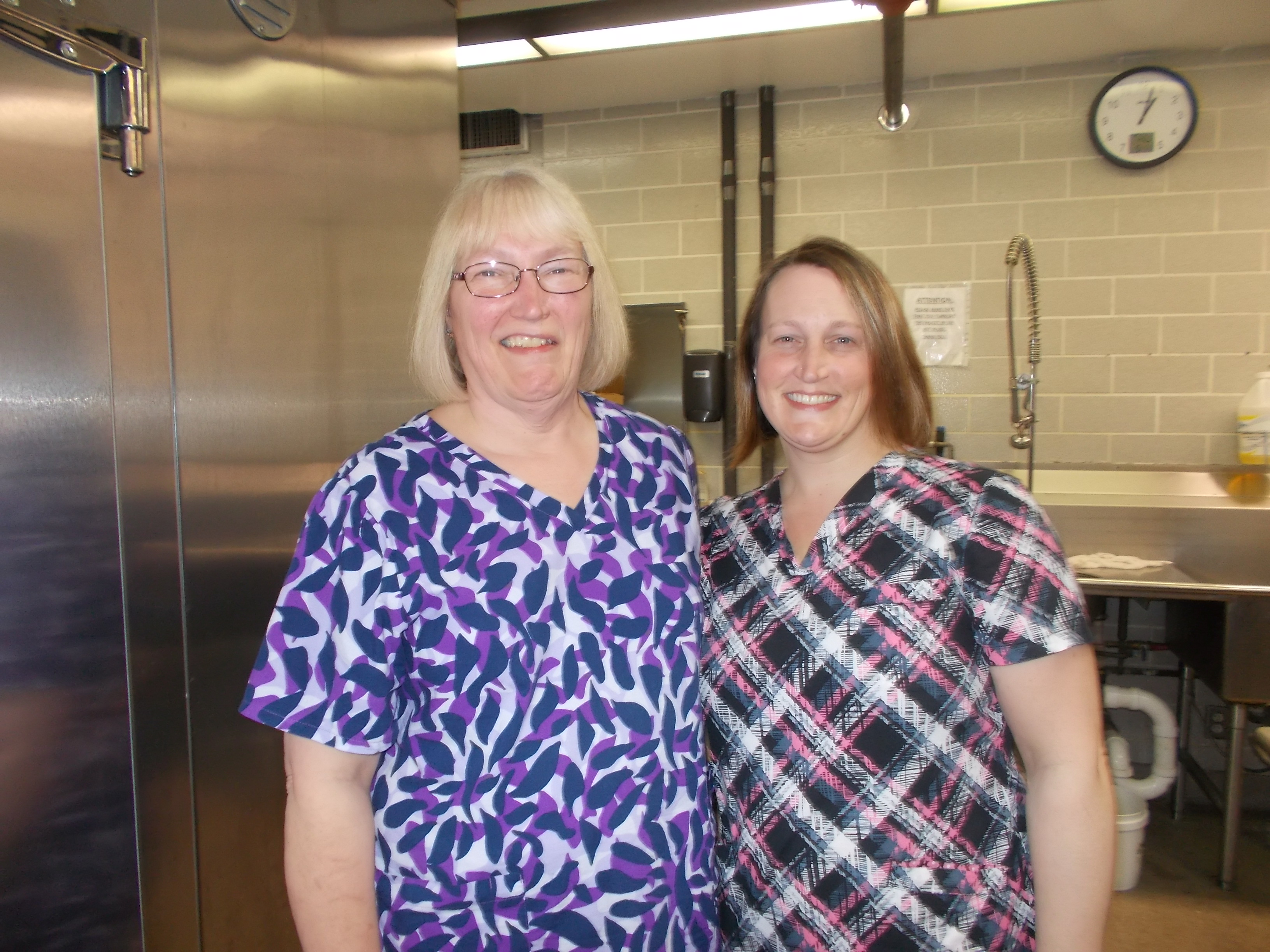 It wouldn't be long before her kids would be making their rounds in the facility, visiting mom and enjoying a treat each visit.
"I don't remember those days but I do remember the cookies and juice," says Carol's daughter Sheila Neil as she begins to laugh.
"I think we even asked Dad to take us up there," she recalls.
The visits became more frequent, especially on mother-daughter days.
"She wasn't too interested in doing the dishes at that time but she really took an interest in being a CNA," says Carol.
As a junior in high school, Sheila took courses to become a CNA and started her career in the same location as her mother. They were in different departments and on different shifts—Carol during the day and Sheila at night, but in the same facility. Due to insurance issues, Sheila switched locations when pregnant with her son. Just three years ago Sheila returned to where it all began, joining the ALC Mondovi dietary staff with mom still there.
"It's been pretty good. There's some days where it's like, 'Oh my god'," Carol says with a laugh, "but she's there and I know I can depend on her."
And that's exactly how Sheila feels about her mom, a reason she attributes to the longevity of Carol's career in Mondovi.
"Everybody depends on her. She's reliable so everyone goes to her. From her, I've learned to be dependable and honest. I think I've always said I want to be like my mom. I've watched her my whole life help others. She's helped everyone, especially me," says Sheila.
There's something else the two have in common, their love for the residents.
"The residents really teach you a lot of things. We learn a lot from them, especially a lot of history. They tell us stories. It's very interesting," shares Carol.
"They have so many stories," adds Sheila. "I love history so I love what they have to say about the past. That's my favorite."
Not everyone there knows that the pair are a mother-daughter duo, but Sheila loves to tell the residents.
"I'll be the one that says it to the residents, 'Did you know that's my mom?' I love the reactions they give. She's my best friend," says Sheila.



American Lutheran Communities has been helping our friends and neighbors in communities all over western Wisconsin since 1949. The non-profit organization specializes in rehabilitation, assisted living and skilled nursing at American Lutheran Communities - Menomonie and Autumn Village Assisted Living in Menomonie and American Lutheran Communities - Mondovi and Hillview Senior Living located in Mondovi.
---